Serious sustainability within companies is a key factor in the battle for our climate. There are significant changes in corporate reporting on sustainability efforts. As of mid-2024, the new EU directive on corporate sustainability reporting (Corporate Sustainability Reporting Directive, CSRD), which came into effect at the beginning of 2023, must be implemented by member states. In this post, we aim to provide practical clarity on this matter.
Am I affected?
For large EU companies of public interest, there have been reporting obligations for sustainability under the Non-Financial Reporting Directive (NFRD) for some time. This is now being significantly expanded, affecting around 50,000 companies in the EU.
Who is specifically affected?
All organizations with a net turnover of 40 million euros, total assets of 20 million euros, and more than 250 employees. There will be further adjustments in 2026.

Non-EU companies with a turnover of 150 million euros and a subsidiary within the EU with 40 million euros. Micro-enterprises are initially exempt (there will likely be deeper thresholds by 2026).
Why CSRD?
The purpose of the CSRD directive is to steer the path to Net-Zero by 2050, specifically the flow of funds and capital within companies. This means that investments will flow into initiatives and companies that provide sustainable solutions and contribute to the reduction of CO₂ equivalent emissions.
What are the requirements?
The major change that will also require a significant shift in mindset is the obligation to include "non-financial" information in the annual report, which must also be externally audited. Furthermore, there are standards (templates), and for the first time, this must be done in a digital format.
What does this specifically mean?
The aim is to examine and assess companies from the perspective of genuine sustainability. This includes:
Business model, strategy, and policies.

Governance structure and transparency of the organization.

Corporate and sustainability leadership, sustainability experts in management.

Double materiality assessment - how it affects the environment, but also how the environment affects the company (for example, a fisherman harvesting fish from the sea, fewer fish affecting the fisherman).

Risk and opportunity management, such as climate and financial risks and opportunities.
The range of topics is broad and aligned with the UN's SDGs (Sustainable Development Goals). These include environmental goals (climate protection, water conservation, circular economy), ESRS (environmental and social risks and opportunities), social aspects (workforce, affected communities, end consumers), and the governance of all these aspects (43 sector-specific standards under development, such as governance, risk).
Why act now?
To be best prepared, companies should have already started or should immediately start their individual "Net-Zero journey." On one hand, this is to gain a competitive advantage and generate long-term value as a forward-looking company. It's essentially about achieving a rapid "license" to operate the company in a future-proof manner. There's a significant shift in that companies are no longer judged solely based on financial metrics, but also on their environmental and sustainability impact.
What happens if you don't act?
To show results before the first EU-set deadlines, steps should be taken now. Once these deadlines expire, rigid and unresponsive companies will be exposed as non-sustainable entities and will face disadvantages in the market. It's wiser to act now, to stay ahead of the competition, reap the benefits of your efforts, and establish a long-term competitive advantage. Tree.ly is positioned as an impact company, meaning we've put a lot of thought into our impact, our impact model, and the impact ladder. We've defined inputs, outputs, and outcomes and have a strategic plan for how we can contribute to Net-Zero as a small but impactful organization. We invite you not just to meet the minimum requirements to avoid fines and reduce the risk of regulatory consequences. Instead, be one step ahead in this important change for all humanity. Sustainability transformation is a long-term investment and a change in operations, not a quick overnight action.
How can Tree.ly assist you?
On the path to Net-Zero, the first step is analyzing the carbon footprint and climate balance (we can connect you with professional partners for this). Then comes a plan to reduce emissions (e.g., renewable energy, electric fleet, and specific measures). IN PARALLEL, you should already be making financial contributions to permanent CO₂ reduction, such as through domestic forest climate protection projects.
Tree.ly: 4 building blocks on the way to Net-Zero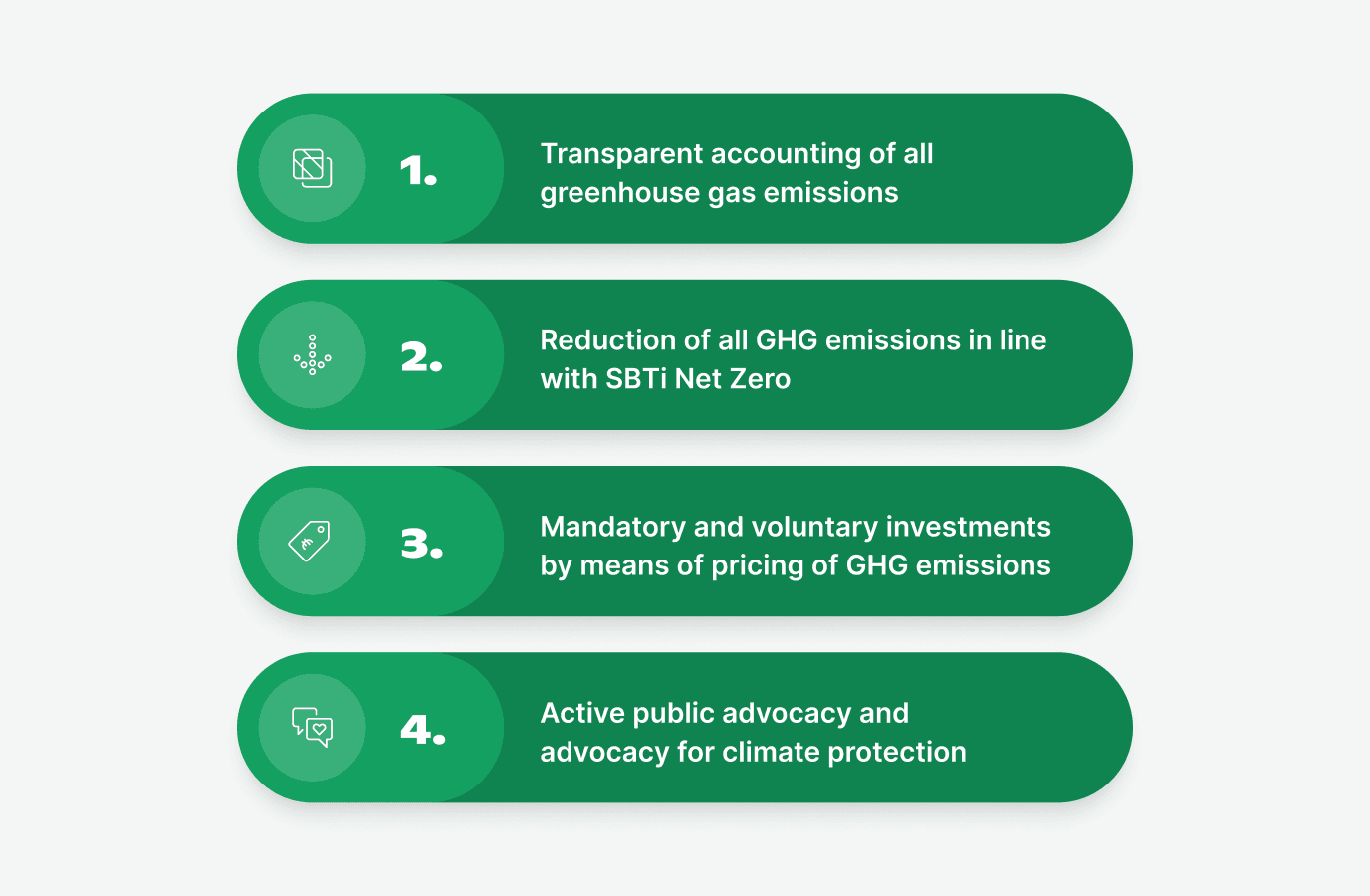 The difference of immediately supporting meaningful, certified, regional projects (such as domestic forest climate protection projects) or waiting until later (e.g., only after the reduction path) is very apparent here: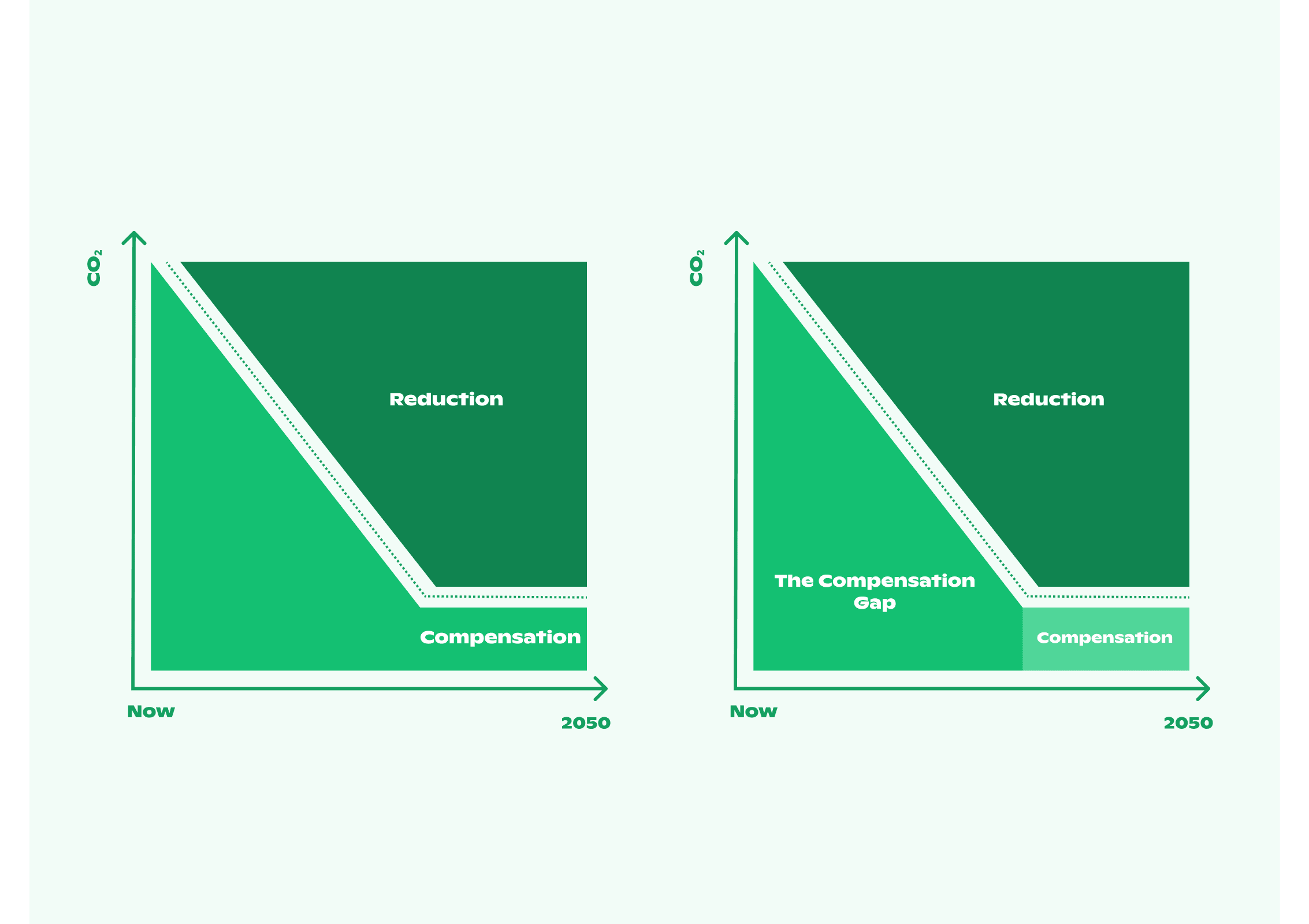 The impacts are reflected in the 'compensation gap' and illustrate why it is important to support meaningful, certified, and regional projects (such as regional forest carbon projects) now rather than waiting until a later date.
We're here to assist you on your individual journey to Net-Zero 🌲😀! Explore our Austrian forest climate protection projects now. Approximately 25 more projects in Germany, Italy, the Netherlands, and the Czech Republic are already in development and will follow immediately after certification.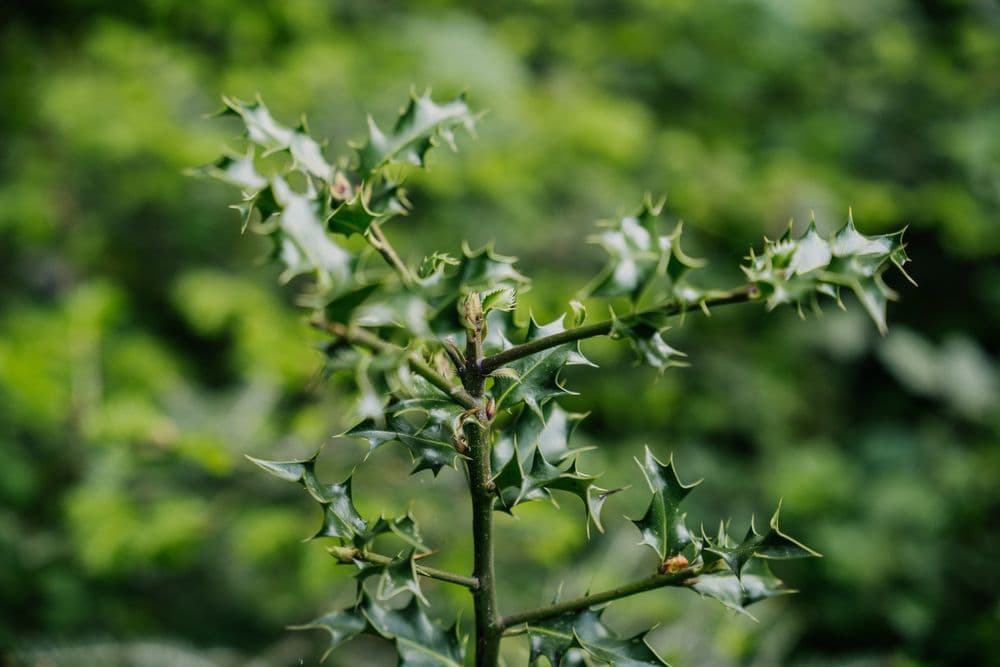 Our climate protection offer
Invest in climate protection projects for regional forests, support the work of forest owners and contribute to achieving your climate goals.